Austin, TX is home to David Barrow who brought us the incredible Cat Mountain and Santa Fe layout in HO. Tommy Holt is honoring The Western Pacific with his grand WP First Sub.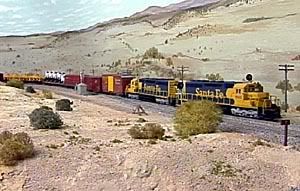 David Barrow's CM&SF as it existed in the 90's. Today it has become a Lubbock District switching layout with un-ballasted track and sectional track.
David talked about the new layout in 2009 from Model Railroader.
The latest version of my HO scale Cat Mountain & Santa Fe Ry. is rooted more firmly than ever in the full-size Atchison, Topeka & Santa Fe. It represents a change from the emphasis on industrial switching of my previous model railroad. That layout was based on the industrial zones around Lubbock, Texas, and I described it in Model Railroad Planning 2004. Since then I decided that I'd prefer a railroad that combined mainline operation with switching, while remaining faithful to the prototype. To explain how I reached that point, it helps to look back a few years.
In 1986, I heard that the Santa Fe was planning to discard several Union Switch & Signal Co. TCS machines in Amarillo, Texas. ("TCS" means "Traffic Control System," the Santa Fe name for Centralized Traffic Control.) Some friends and I went to Amarillo with the idea of acquiring one of the US&S standard 5-foot cabinets to be re-purposed for use by my CM&SF dispatcher. But removing the machine proved beyond our means at the time, and we settled for purchasing some of the control handles and lettering plates to install on a working replica of a TCS machine.
At the same time, I photographed a 7 1/2-foot machine that controlled the Fourth District of the Plains Division, the railroad from Slaton west through Lubbock to Texico, on the Texas-New Mexico border. At that point it joined the Santa Fe's Southern District main line between Chicago and California. (Originally called the Belen Cutoff, the Southern District is known to today's BNSF railroaders as the "Transcon.")
I didn't know it then, but many years later those photos helped me decide to build a model railroad representing the east end of the line once controlled by that machine.
The several railroads I've built in the last 36 years have all modeled Santa Fe operations in west Texas in either 1952 or 1978, sometimes with a freelanced track plan and sometimes more closely based on the prototype. I decided to build this one …