The SP Lone Pine Depot sits on the edge of town
This segment was formerly the northern end of the the Lone Pine Branch, or the Jawbone Branch, which was approximately 90 miles long and extended north from Mojave through the Jawbone region and Owens Valley to Owenyo (a few miles north of Lone Pine). The branch line itself was built around 1912 and was used to help build the Los Angeles Aqueduct. It was built as standard gauge, and there was a transfer station to the SP narrow gauge at Owenyo. (The last segment of this narrow gauge line lasted until 1960!)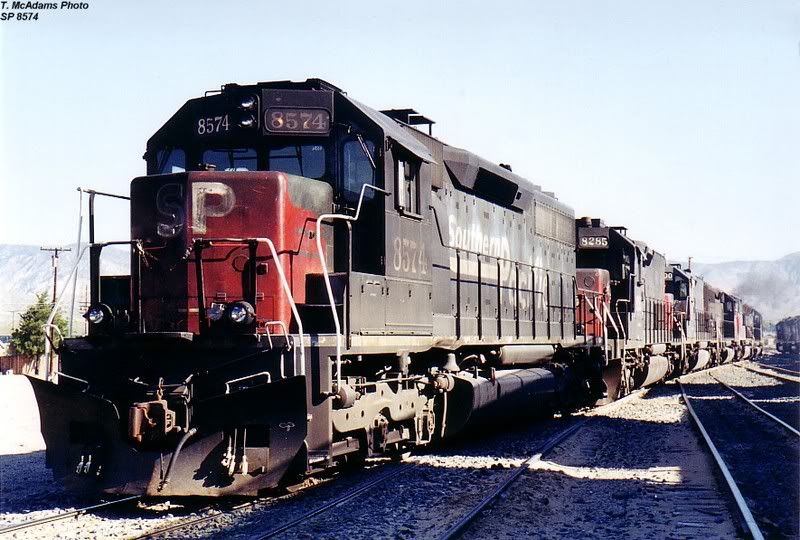 The Lone Pine Local
Today at Searles, the SP (now UP) branch interchanges with the still-active shortline Trona Railway. Further north, at Inyokern, the branch used to interchange with a long-abandoned and deteriorated US Government Railroad that extended east to the China Lake Naval Weapons Station.
In 1997 the former Lone Pine station was converted to a private residence with "No Trespassing" signs across the driveway and large dogs on the old platforms. By 2003, it had been converted to a book store.
The SP line north of Searles has been out-of-service since some time between 1972 and 1984. The grade is still visible from many sections of US Route 395, although the rails were removed at the four US Route 395 grade crossings north of Inyokern. In 1997, when the pictures on this page were taken, the track had already been removed a long time from Owenyo south through Lone Pine to Bartlett, the site of an abandoned industrial building next to (dry) Owens Lake. Some of the old grade is used as a dirt bike trail, though it is hazardous because most of the small bridges have been removed.
In 1997, the remaining track south of Bartlett was in poor shape, and in one section the northbound lanes of US Route 395 were built over the ROW when the highway was expanded to four divided lanes in that area. The remaining track south from Bartlett to Searles was removed around 1999. This area is mostly desert and there are virtually no trees along the right-of-way. The line south of Searles is still very active with mineral shipments from the Trona. Searles itself is only a junction point (no town), about a mile east of US Route 395.
Thanks to Mike Palmer for contributing information about this route.